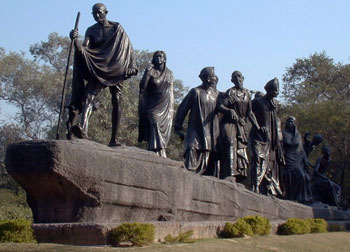 Today is the 75th Anniversary of the start of Gandhi's Salt March in India. Gandhi started this march not just to protest the taxation of salt by the British, but to make a grand spectacle of such injustice. Sure enough, the entire nation was held captive by these events and many consider this march to be the start of the national capaign for a Free India.

Here's a site with a good rundown of the March. The entire site is actually put together by a professor at UCLA who's class I took while there. Good stuff there about the entire Indian experience.

Here's some coverage of the commemoration of the 75th anniversary in India where there is a re-enactment of the entire march.

Additionally, we at Young India have published our newsletter, Samay, with special features about the Salt March. The newsletter is a monthly publication (I'm the Editor-in-Chief) so give it a read as there is some interesting analysis there about other issues of the day.